Patoù

An elementary structure. Almost an archetype.
A sort of trilithon consisting of a rectangular top and two trapezoidal-shaped partitions placed side by side, the section of which surmounts the horizontal top in a refined play of joints. Made of planked wood, with a Makassar ebony veneer, the console table is an artefact solid, light and elegant: an object that seems to come from distant antiquity but feels perfectly at home in our contemporary world.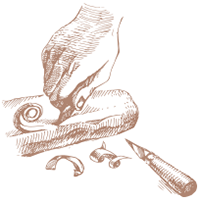 Craftmanship
As testimony to a legendary art, Promemoria pieces represent the highest expression of the purest Italian excellence. Craftsmen through ancient techniques and fine materials create an extraordinary symphony of traditions.
Products of the collection